LG Energy Solution makes the leap from battery supplier to comprehensive system provider, elevating its position in the market
This year, under the theme 'Change Your Energy, Charge Your Life', LGES introduces its new brand 'LG Energy Solution enblock' along with an exciting lineup of residential and grid-scale ESS products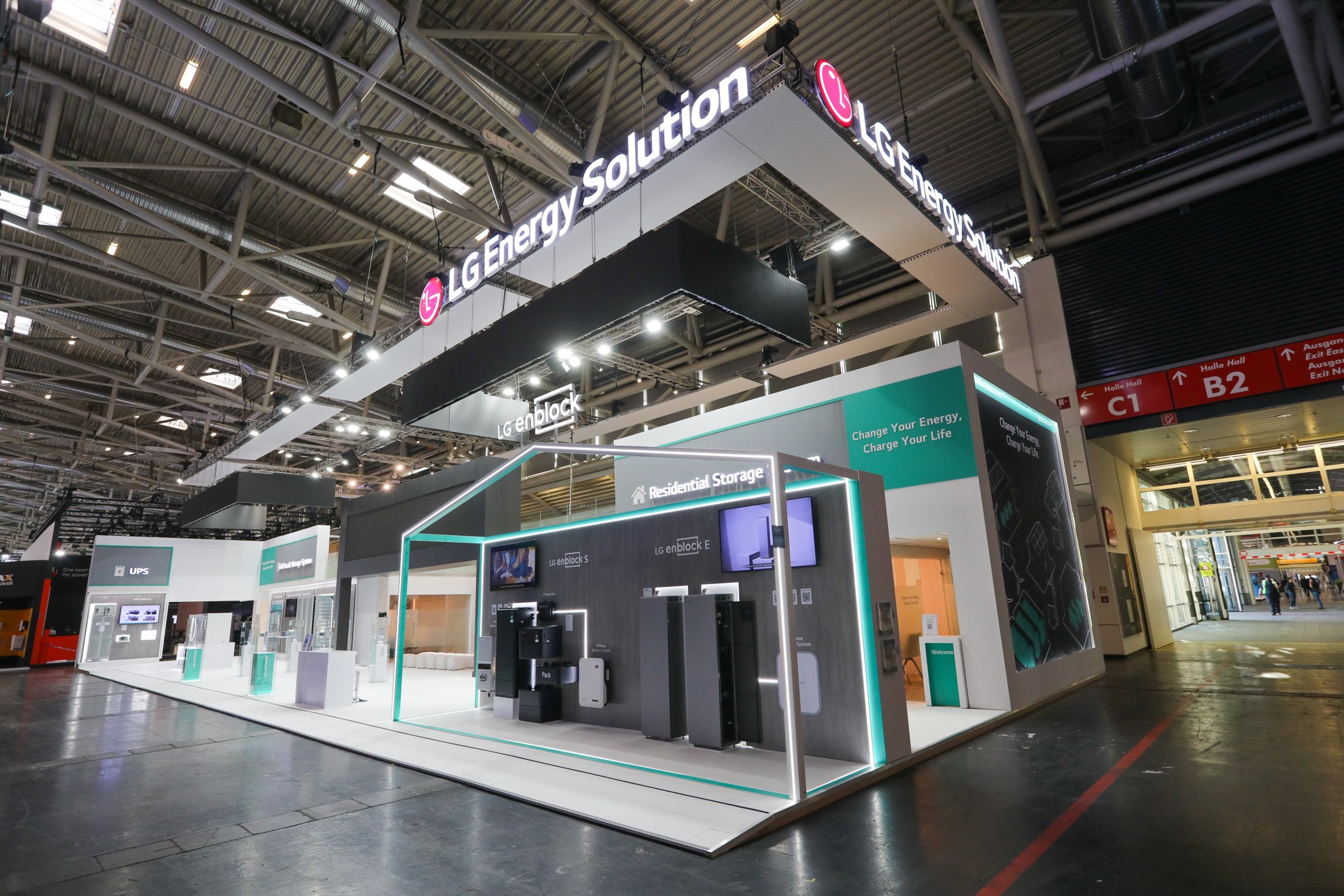 Munich, Germany, June 14, 2023 — LG Energy Solution (LGES; KRX: 373220), a leading global manufacturer of advanced lithium-ion batteries, announced on Wednesday the launch of a new residential storage system brand LG Energy Solution enblock, along with several new residential and grid-scale ESS products at Europe's largest and most diverse international exhibition and conference for batteries and energy storage systems.
The fair, ees Europe 2023, runs June 14-16 at Messe München in Munich, and showcases top-notch electrical energy storage systems from all over the world. Under the theme "Change Your Energy, Charge Your Life," LGES introduced innovative lineup of battery products including two models from the enblockbrand, a new hybrid inverter system, a new containerized solution featuring advanced LFP cells, and an S-Frame pack.
LG Energy Solution enblock stands for "energy" plus "block" and signifies a space containing energy. It perfectly sums up LGES's commitment to delivering the utmost in energy solutions. As the primary source of energy within the home, LG Energy Solution enblock will improve sustainability by enabling an uninterrupted cycle of receiving, storing, and releasing energy. At the event, LGES prepared a special live product demo session and presentation, offering installers valuable insights into the new enblock products.
The highly anticipated LG Energy Solution enblock E is a state-of-the-art residential energy storage system, boasting easy installation and featuring the company's advanced LFP packs. LG Energy Solution produces differentiated LFP batteries by improving energy density with durability and quality. Furthermore, rigorous design and process control ensure high-quality, mass production of these batteries than existing LFP batteres in the market.  
LG Energy Solution enblock E presents a seamless solution with the option to use either four modules (12.4kWh) in a single cabinet or expand it to accommodate five modules (15.5kWh) when additional capacity is needed. Launching in the second half of 2023, this versatile solution is tailor-made for homeowners. The compact cabinet-style system offers flexible installation options both indoors and outdoors, and allows for effortless expansion of battery capacity by adding modules to meet increasing power requirements.
The LG Energy Solution enblock S is a stackable residential energy storage system that LGES designed to harmonize with customers' home decor. This customer-friendly product is available in both stand-alone and wall-mounted versions. Customers will have the flexibility to expand battery capacity after the initial installation by incorporating three (10.6kWh), four (14.1kWh), or five (17.7 kWh) packs. The model is scheduled to launch in the first half of 2024.
The new hybrid inverter system, expected to launch in the third quarter of 2023 for Europeasn households, ensures effortless installation and commissioning of both batteries and inverters. It is available in both high-voltage(HV) and low-voltage(LV) configurations. Introduced first in Spain and Italy, the HV option combines 400V Prime batteries (9.6 kWh, 16 kWh) with hybrid inverters (5kW, 6kW) for high-energy, high-power systems. The LV option connects one hybrid inverter with up to two units of 48V batteries in parallel (5.9 kWh, 8.8 kWh, 11.7 kWh), offering a maximum capacity of 23.4 kWh.
With the accompanying monitoring and service app, installers benefit from a simplified installation process, while customers gain access to real-time data on solar energy production and home energy consumption. Homeowners can also conveniently access all services through a single point of contact, and a company-guaranteed extensive 10-year warranty covers both the battery and the inverter.
The new containerized solution with advanced LFP cells is a factory-assembled product that offers convenient installation. This new containerized solution has a competitive edge in measuring the State of Charge (SOC). Its sophisticated algorithm assesses SOC more accurately, preventing damage from overcharging or over-discharging.
The newly launched S-Frame pack, based on NCM batteries, enhances safety by proactively preventing thermal events. Recognized for its exceptional safety among NCM-based products, the S-Frame pack was selected as a finalist for the prestigious ees AWARD 2023.
Meanwhile, at the company's exhibition booth (Hall B1, 410),visitors can learn about LG Energy Solution's cutting-edge battery and energy storage technology. This year the highlight is cell-type batteries, with a focus on NCM and LFP batteries. The company will also showcase its high-voltage rack systems, UPS batteries, and LG Energy Solution FLEX home ESS.
"LG Energy Solution's ESS division is dedicated to enhancing product competitiveness by launching new LFP battery-based products that excel in terms of energy density and efficiency," said Seungse Chang, head of LG Energy Solution's ESS Battery division. "We're leveraging our extensive experience and technology. Within the residential ESS market, our product lineup has been expanded to include a new hybrid inverter system and other innovative products, such as the LG Energy Solution Prime, LG Energy Solution  FLEX, and LG Energy Solution enblock. We are committed to providing a diverse range of high-quality choices that meet our customers' evolving needs, with a focus on scalability and ease of installation.
For product images, go to https://news.lgensol.com/media-library/images/