LG Energy Solution vows to triple the ESS division's global sales in five years, fueled by the remarkable expansion of the U.S. market.
Establishing the first large-scale ESS battery production in the U.S. and localizing the supply chain among four business strategies announced at RE+
Products on display at RE+ include the LFP Liquid Cooling Container, a cutting-edge modular system for grid-scale uses, and stackable residential ESS products LG Energy Solution enblock S and S+.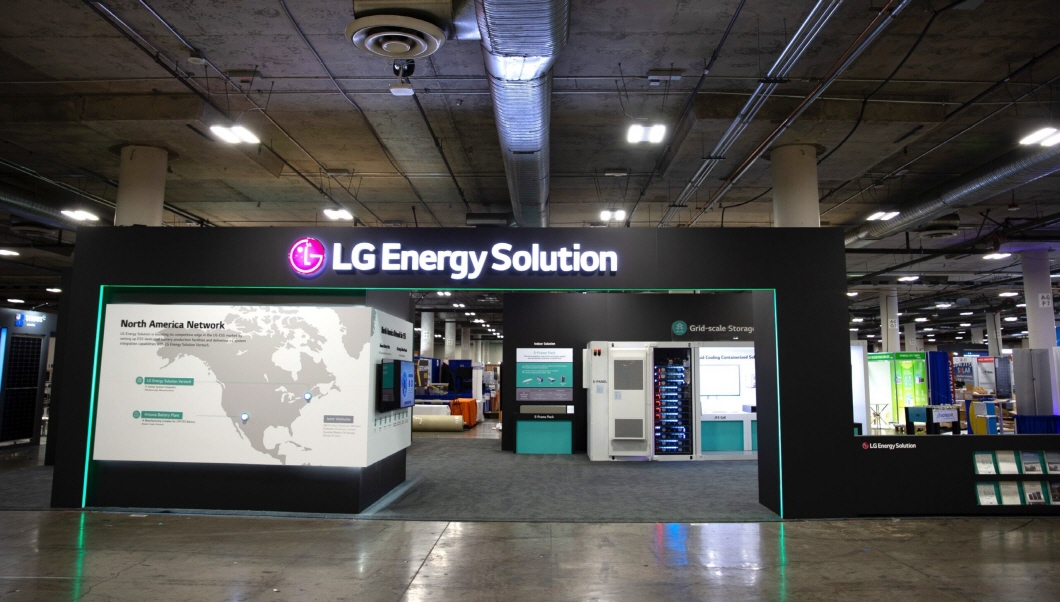 Las Vegas, Sept. 11, 2023 — LG Energy Solution (KRX: 373220), a leading global manufacturer of advanced lithium-ion batteries, unveiled its ESS business strategies for the U.S. to capitalize on its fast-growing energy storage market. The announcement was made at RE+ 2023, the renewable energy industry's global trade fair taking place Sept. 11-14 at the Venetian Convention and Expo Center in Las Vegas. At the exhibit, LG Energy Solution is also showcasing its cutting-edge products and system solutions that could reshape the energy storage system landscape in North America.
"With our production excellence and differentiated technologies, we are going to triple global revenues with ESS products in 5 years," said Seungse Chang, head of the ESS business division at LG Energy Solution."We have already decided to invest USD 2.3 billion in the U.S. and even more investment is to come. We believe that our journey here will speed up clean energy transition in the U.S."
The global ESS market is on the cusp of a remarkable expansion, driven by a push for innovative, sustainable energy policies. Especially for the North American ESS market, the energy research firm Wood Mackenzie predicts it will grow to 103 GWh in 2030 from just 12 GWh in 2022.
At RE+, LG Energy Solution announced four strategies to expand the business in the U.S. market: the first large-scale ESS battery production in the U.S.; a lineup of fully integrated system solution, from cell production to DC-AC integration to software-as-a-service products; IRA benefit eligibility with a localized supply chain; and a competitive edge in LFP technology.
"We are the first to secure a large-scale ESS battery production base in the U.S. The new plant will be located in Queen Creek, Arizona and start production in the first quarter of 2026 with a production capacity of 16 GWh," Chang said. The company is also considering further expansion depending on demand and market conditions.
LG Energy Solution has also undertaken a major initiative to localize the entire supply chain from cells to packs to containers. This makes LG Energy Solution products IRA compliant and LG Energy Solution will be the only battery producer to offer extra 10 percent of IRA investment tax credits to customers.
LG Energy Solution also plans to expand its product range with advanced LFP batteries that offer greater reliability, longer life cycles, and higher cell level efficiency. The company will be the only LFP battery producer for ESS to offer immediate, responsive on-site support in addition to remote quality control for after service.
On top of producing top-quality battery cells, LG Energy Solution is becoming a fully integrated system solution provider for ESS encompassing DC-AC integration and software-as-a-service products to lead the next generation ESS.
LG Energy Solution's fully integrated system solutions include standardized containers with plug and play system. Going beyond hardware, LG Energy Solution plans to offer a comprehensive ESS solution and seamless support throughout the life cycle by developing data-driven software solutions in collaboration with LG Energy Solution Vertech.
LG Energy Solution Vertech is a subsidiary of LG Energy Solution that was established when the company strategically acquired NEC Energy Solutions. Specializing in system integration, LG Energy Solution Vertech excels in the local renewable energy market and has undertaken multi-GWh U.S. projects.
At RE+, the lineup of products on display includes the LFP Liquid Cooling Container for grid-scale use, a cutting-edge modular system with a capacity of 4.76 megawatt-hours. By harnessing the power of water cooling, it gains a twofold advantage: a substantial reduction in maintenance expenses and an extended product lifespan. Its modular nature enables dynamic adaptations that cater precisely to customer needs and accommodate alterations in container energy specifications.
For residential use, LG Energy Solution presents two recent launches under a fresh brand that reimagines residential energy storage: LG Energy Solution enblock S and S+. LG Energy Solution also showcases Prime+ at the exhibition.
The LG Energy Solution enblock brand — whose name stands for "energy" plus "block" — prioritizes an enhanced customer experience, with a stackable design that seamlessly integrates with the aesthetics of any home. Available in both standalone and wall-mounted iterations, it offers the freedom to augment battery capacity after the initial setup. This can be achieved by integrating three (10.6 kWh), four (14.1 kWh) or five (17.7 kWh) packs.
LG Energy Solution enblock S+ and Prime+ represent intelligent choices for solar power systems to cover daily electricity needs. These solutions seamlessly integrate with existing photovoltaic setups, providing both partial and whole home backup without the need for separate ESS products. Together with LG Energy Solution's inverter, they constitute a complete package, while a smart monitoring app ensures real-time oversight of energy production and consumption. With proactive anomaly detection and unified technical support through the Global Customer Portal app, LG Energy Solution enblock S+ and Prime+ redefine simplicity and performance in home energy storage.
 
RE+ 2023 Details
Date

Sept. 11-14, 2023

Location

The Venetian Convention and Expo Center, Las Vegas Booth No.13086 (Sands, Level 1)

LG Energy Solution Products
Grid-Scale ESS Zone: LFP Cell & Pack, LFP Liquid Cooling Container, S-Frame Pack 
Residential ESS Zone: LG Energy Solution enblock S, LG Energy Solution enblock S+, Prime +