As COVID-19 social distancing measures drag on, companies dramatically change how they conduct internal communication. Rather than choosing face-to-face engagements, more and more are opting for remote activities such as video conferencing. LG Energy Solution, for example, provides online training for its new hires, allowing them to be fully onboarded while remaining physically apart. Online education has many advantages, but it is not free of drawbacks, including the lack of social presence or mutual exchange between cohorts. To overcome such challenges, LG Energy Solution hosted its new employee training in the metaverse. LG Energy Solution conducted onboarding training for its new hires in Gather Town, one of the metaverse platforms, and replicated its manufacturing process in a 3D game format so that its new hires could virtually experience working in the plant. 
We met with the staff of LG Energy Solution's Talent Recruitment Team and Organizational Culture Team, who put together the smart "ontact*" training.

*Ontact: A term coined by Koreans, meaning "face-to-face" experience taking online.

Q. Some of our readers may not be familiar with the Organizational Culture Team or Talent Recruitment Team. Could you briefly introduce them?
(Yookyoung Ham, Talent Recruitment Team Specialist)
The talent recruitment team aims to develop our employees' competencies by offering various educational opportunities. We plan and offer various programs for different positions and required competencies. These programs include our popular LBA (LG Battery Academy) program, new hires onboarding education, smart team manager programs, and foreign language AI tutor.
(Kyungmin Lee, Organizational Culture Team Professional)
The Organizational Culture Team focuses on designing our members' experience to guide them towards behaviors required by the current business situation. For example, active collaboration and information sharing are crucial for our business. So, we designed a system where our members will have a positive collaborative experience and could maximize synergy or build a translation system to foster communication among employees who speak different languages. As these experiences accumulate, employees develop positive behavioral patterns and cultures.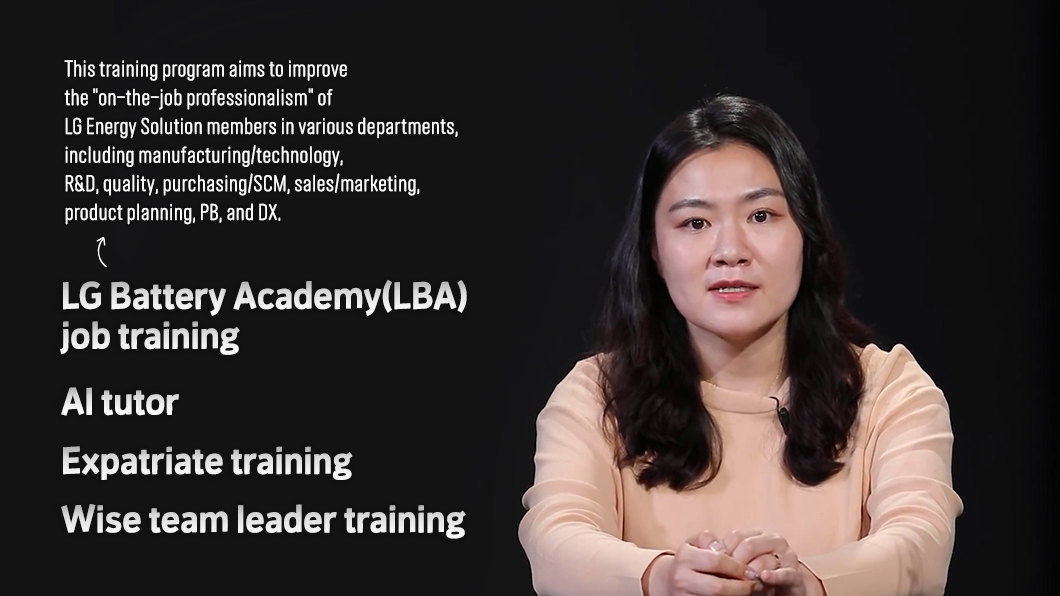 Q. I believe both departments need a lot of deliberation and research. Do these job characteristics affect your day-to-day life as well?
(Jongjoo Park, Talent Recruitment Team Professional)
I do find myself trying to explain things in a more fun and easy manner. Also, when I buy a new product, I thoroughly read through the product manual. I am interested in topics like how to learn or how to adapt.

(Daye Park, Talent Recruitment Team Specialist)
When I stumble upon new content or space, I would ask myself, "How did someone put together such an idea?" If I notice some flaws, I might ask, "Does the person in charge know this? Should I tell that person?" These thoughts go through my mind. (Laughter)
(Yookyoung Ham, Talent Recruitment Team Specialist)
Sometimes, while watching YouTube, I would think, "Oh, this video would be great for our training, or when I hear a good song, I would wonder, "this song is perfect for the breaks during our training sessions."
(Kyungmin Lee, Organizational Culture Team Professional)
When I meet family members or friends, we may talk about each other's work. Then, I would picture my own impression of their companies in my head. For example, I'd imagine their staff structure or leadership styles. Then I could get sidetracked and imagine the company atmosphere or challenges they face. I sometimes even think about what kind of responses I would get if I conducted a survey.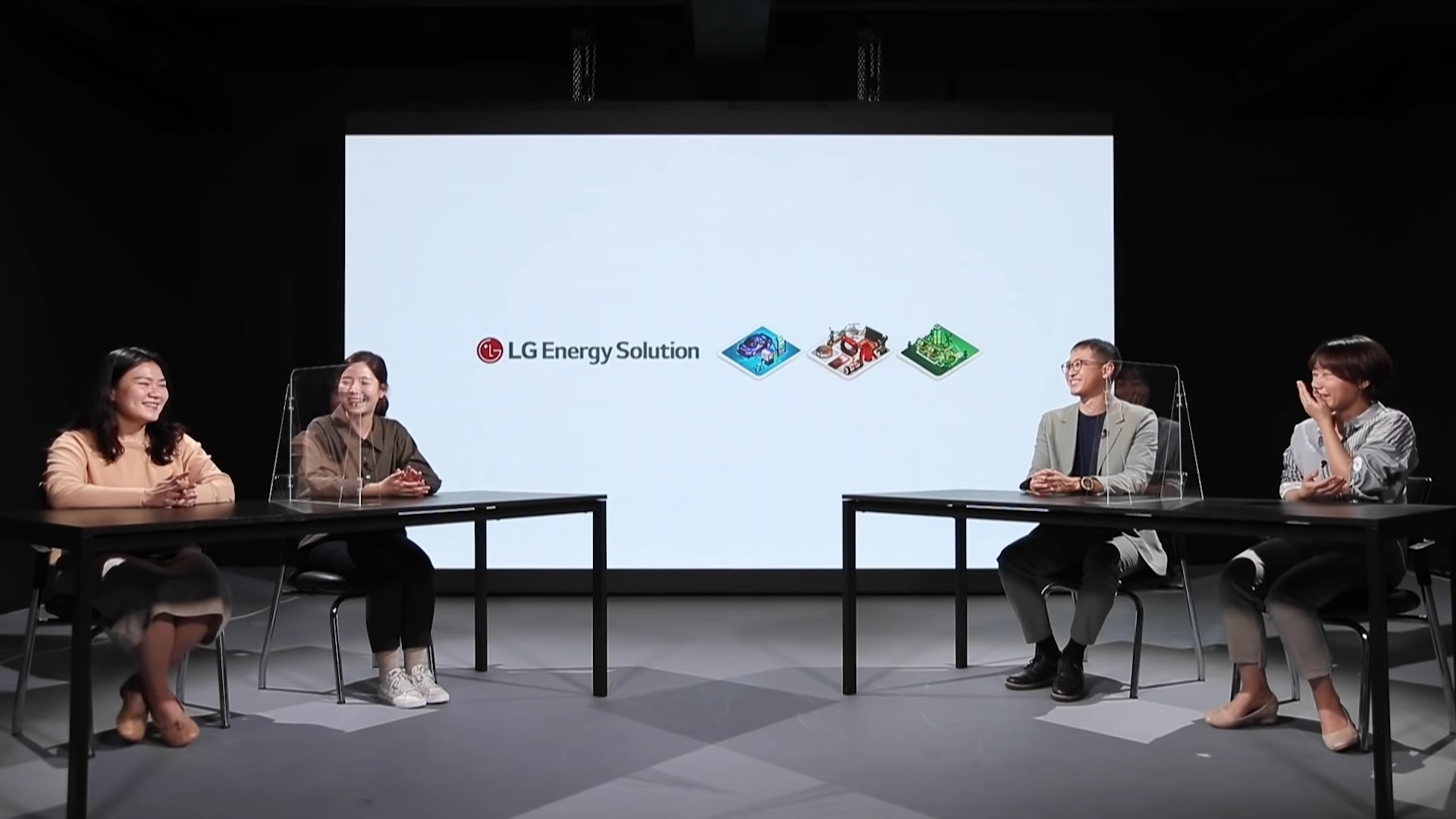 Q. As LG Energy Solution starts afresh, what do its training, talent development, and organizational culture aim for?
(Yookyoung Ham, Talent Recruitment Team Specialist)
The new training programs offered by LG Energy Solution aim for all executives and staff members to step into their positions at the right time through self-directed learning and to "integrate forces" early. Here, the role of the Talent Recruitment Team is to support members to structuralize their growth needs, to offer needed content to appropriate members at the right time, and to create a systemic environment and learning culture that swiftly provides appropriate data-based content.
(Kyungmin Lee, Organizational Culture Team Professional)
I think ultimately the goal of organizational culture is to create "synergy." The experiences we offer should at least create synergy when our members do something. Such experiences not only encompass imparting knowledge through education but also include senior colleagues sharing their know-how at work, networking among members, leaders presenting visions, and even the chair and office space that I am occupying right now. My hope is that these small and big experiences create synergy and drive all members to grow together.
Q. I heard that you had put together a metaverse project for new hires. Are there any memorable episodes while working on the project?
(Yookyoung Ham, Talent Recruitment Team Specialist)
It was something that we were trying out for the first time. So, I learned how to use the Gather Town platform and its features. I had a lot of concerns like, "Would new employees feel unfamiliar with the platform or struggle using it? What if they get lost in Gather Town?" But you know what, those concerns turned out to be overblown. Our new employees actually picked up the skills faster than we did, adapted to the system within 10 minutes, and participated well in the training without a manual. I felt proud, but I thought young people learn faster than us at the same time. (Laughter)
(Jongjoo Park, Talent Recruitment Team Professional)
I sketched out some contents when designing the manufacturing process game. I learned them (equipment, processes) firsthand at my former team. It was really interesting to see how the game I designed based on my experience became a real game. I felt proud as well. On the other hand, I loved how we were able to meet and communicate with each other, although it was a virtual space.
(Kyungmin Lee, Organizational Culture Team Professional)
Jongjoo Park, the Talent Recruitment Team Professional, was a development engineer. He led the development and manufacturing of the game. With games like this, paying attention to small details is as important as developing the overall concept. His detailed input, including how things are done in the field, how the processes look like, and how partnering teams work together, was very useful. I learned a lot. Last year, I listened to the VOE of members. Now that I have visualized how work is done by each job group, I was able to not only understand but also empathize with what the members shared at that time. I think the experience of being immersed in a game like this definitely helped.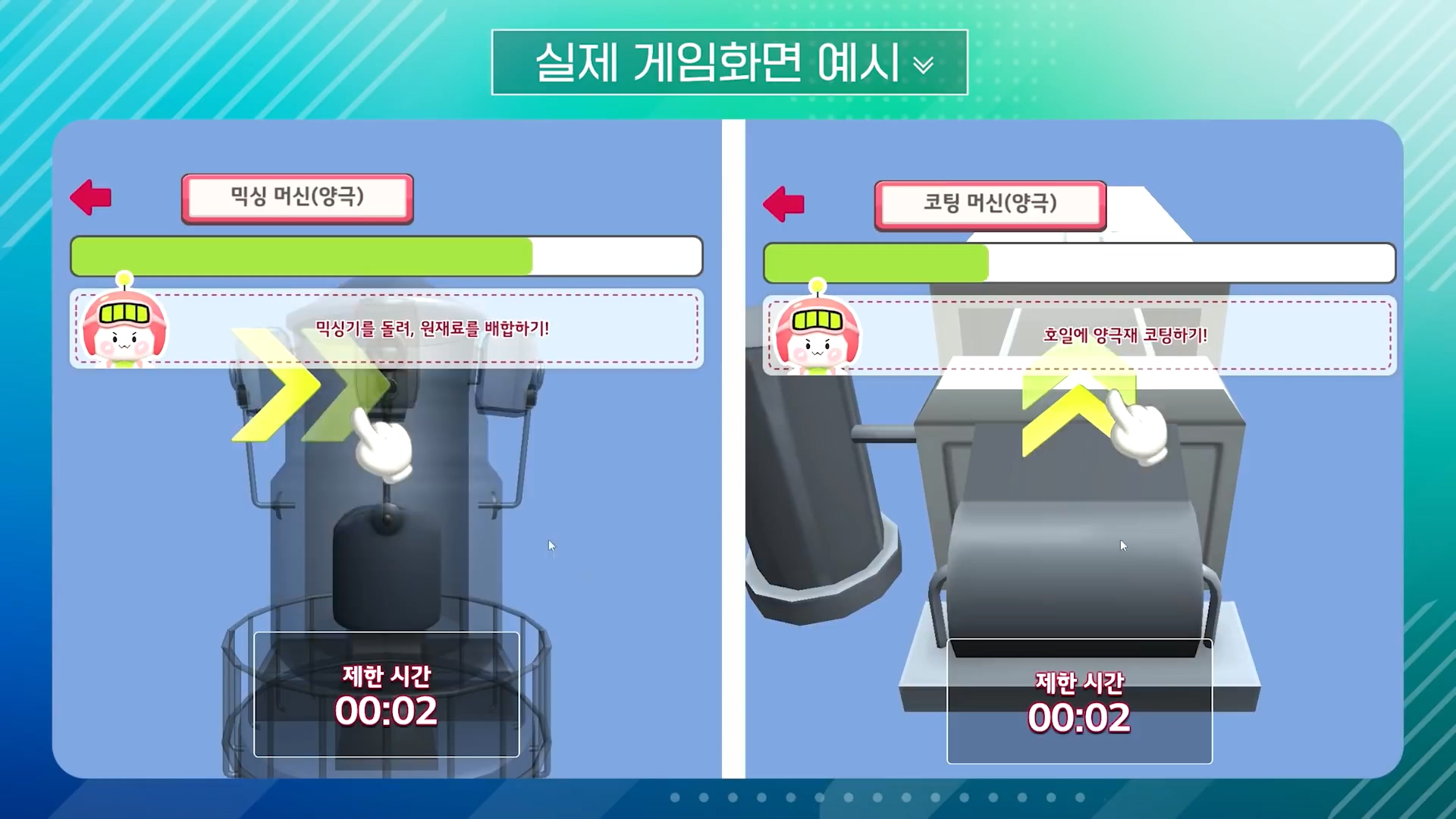 Q. What was the reaction of new employees to Gather Town and the 3D games?
(Daye Park, Talent Recruitment Team Specialist)
Everyone was amazed and delighted with the metaverse experience through the new platform. Although we are familiar with the term "metaverse," which has been frequenting the news lately, not many new hires actually used it.
(Yookyoung Ham, Talent Recruitment Team Specialist)
Our feedback was mainly positive. Many said they were surprised to experience the metaverse firsthand during the onboarding training, as this was something they would typically see only in the news. Some have said LG Energy Solution felt like a young, trendy enterprise that had proactively adopted the metaverse.
(Kyungmin Lee, Organizational Culture Team Professional)
Some said they were curious about the manufacturing process and that it was fun to learn the process firsthand through the game. Others mentioned that it was interesting and brilliant that they could have various experiences in virtual space.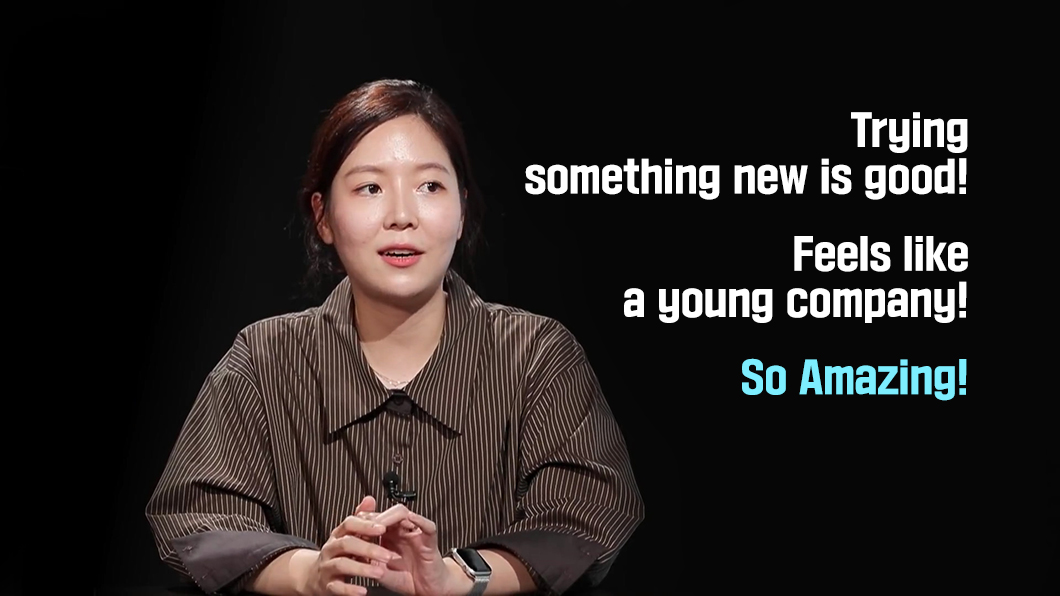 Q. You must feel great to have such positive feedback. Do you have any other moments that recharged and reenergized you at work?
(Jongjoo Park, Talent Recruitment Team Professional)
I enjoy meeting and talking with old colleagues from my former team whenever I visit the Ochang and Daejeon sites. Also, drinking coffee at the 63rd-floor lounge of the headquarters with colleagues while enjoying the fantastic view is such a 'charging' moment. Also, as I often need to conduct online lectures, I try to enjoy the experience imagining I am a YouTuber. I try to explain things in a fun way. (Laughter)
(Daye Park, Talent Recruitment Team Specialist)
You know, our company is at the heart of Yeouido's hot buzzing place. I get a lot of energy when talking with my teammates over delicious food or a cup of coffee. I feel recharged the most when going on vacation after working hard.
(Yookyoung Ham, Talent Recruitment Team Specialist)
I feel recharged whenever I drink coffee on the 63rd floor with like-minded people, overlooking IFC mall and 63 Building. Sometimes, I would look out the window when my headaches during a meeting. Then, I would feel like I am so lucky to work in such an environment. It's great that we can always enjoy this panoramic view any time to reset.
(Kyungmin Lee, Organizational Culture Team Professional)
I like to listen to music on my earphones when working overtime and no one is around. I get hyped up and want to race to finish the work and leave. (Laughter)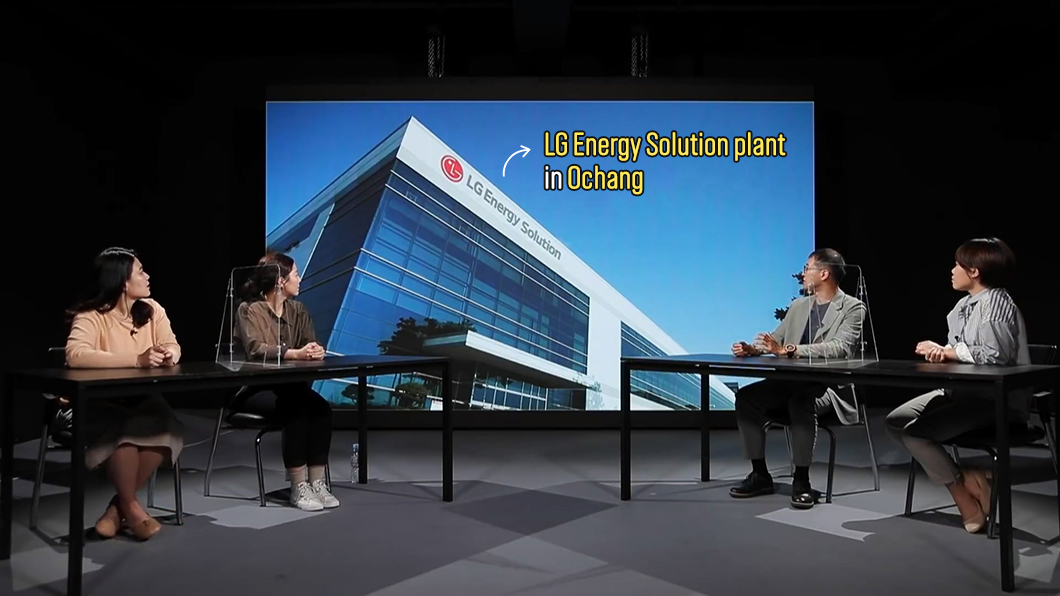 Q. As social distancing measures are being extended, many people are getting used to the 'untact(contactless) or ontact' environment. How will employee training and internal communication change in the future?
(Daye Park, Talent Recruitment Team Specialist)
That's right. As we continue to be socially distant, it has become difficult to run offline training. I believe, and we expect that in-house training will continue to be held online. There are many functions in in-house training, but I think networking is a big part of it. While remaining online, I think we should continue to think and improve on how we can become more intimate with each other and have a relationship that would continue offline.
(Yookyoung Ham, Talent Recruitment Team Professional)
In July, when we were conducting the new employee training, 3rd stage quarantine measure was put in place. However, since the restrictions have been strengthened to Phase 4, virtual training will be inevitable for the time being. However, as confirmed in this new employee training survey, many people miss being trained face-to-face. The biggest reason for this is that team activities are inevitably limited in a virtual training class, and there are few opportunities to form a bond between colleagues. We plan to work on these points. Our next assignment will be to come up with a strategy to foster a strong sense of reality among instructors and team members, even online.
(Kyungmin Lee, Organizational Culture Team Professional)
Some people may think that online is always inferior to offline activities. However, I think it depends on your experience. Even in contactless situations, there could still be enough immersion and interaction. Let's take online games, for example. When playing online, you probably would have felt more comfortable around guild members in the game than when with your real friends. Doing online quests together builds a sense of bonding and accomplishment. I think the current situation we are in poses an opportunity. However, it will take a lot of effort to design content that people can continuously immerse in and have fun, adding value or performance simultaneously.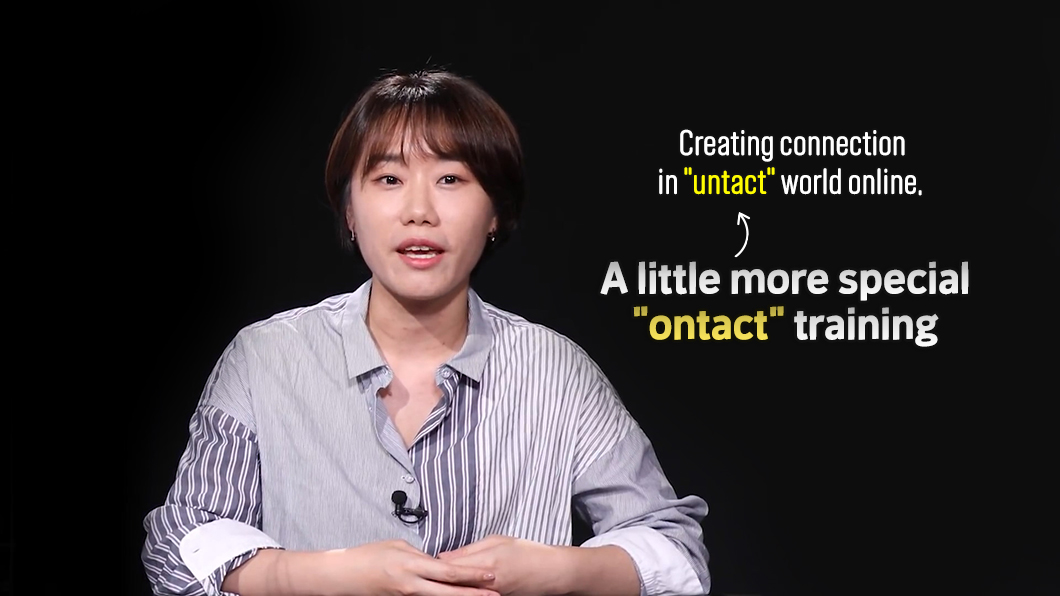 Q. In the next 5 years, how will the education of new hires at LG Energy Solution evolve?
(Jongjoo Park, Talent Recruitment Team Professional)
These days, everyone is talking about the metaverse. As we quickly adopted metaverse in our training program, I believe we will continuously and actively introduce the latest technologies. Technical education is critical to us, and I think systems such as VR/AR, which are currently expensive to build, can be utilized more in the future. I think that we will continue to improve our existing training programs with new tools and methods, such as VR and AR simulators, and enhance the training performance. We could be headed in this direction.
(Yookyung Ham, Talent Recruitment Team Specialist)
We experienced the infinite possibilities of contactless education during COVID-19. I believe we would continue to implement "blended learning", which has the best of both worlds – online and offline – in 5 years. What I realized during the Gather Town training is that people can actually feel online training as real. Think about it. Navigating within the training space with your avatar, walking into the lecture room, turning on the camera, looking at each other, and talking with each other. In essence, it is not that different from face-to-face training! Maybe in 5 years, the technology will evolve, and we will have an upgraded version of the current metaverse. By then, I believe online meetings can foster sufficient interactions.