LGES' ESG Report 2022 published today, announcing a string of sustainable business management progress made in the previous year
61 percent of the electricity used in the company's global production sites was generated from renewable sources… 56 percent when including non-manufacturing business sites
The firm has strengthened the disclosure of information in scope and depth to better address growing demands from global authorities including ISSB and TCFD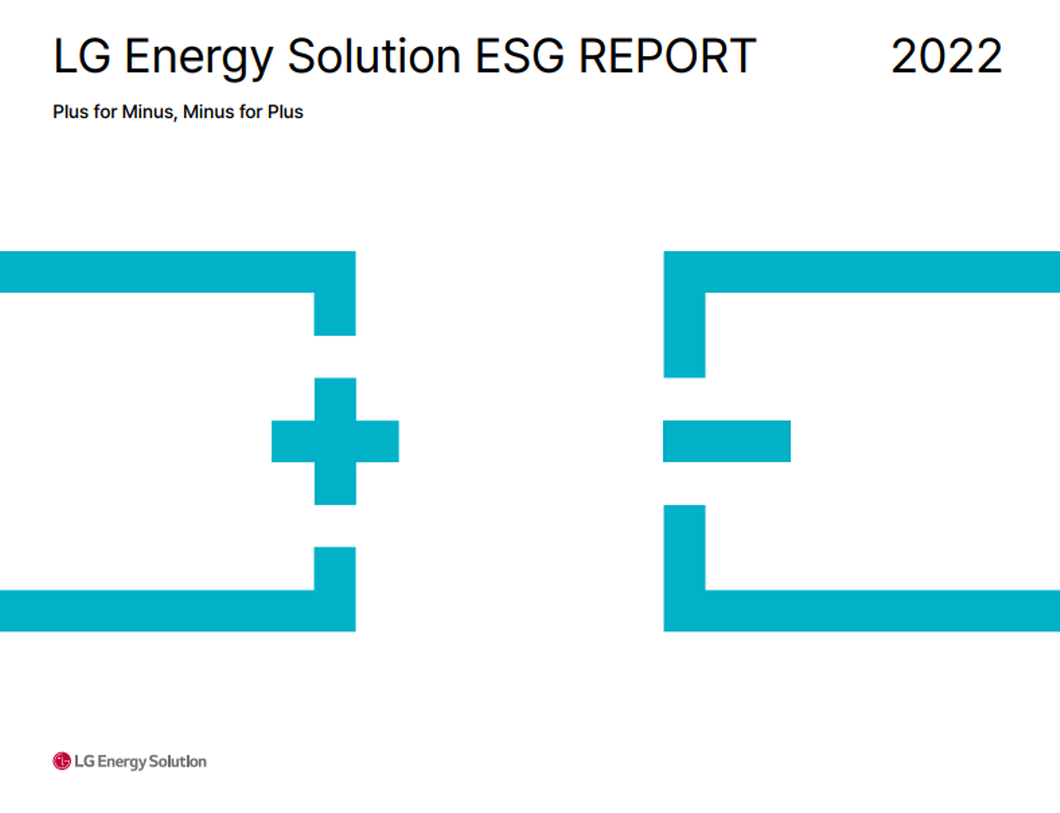 SEOUL, July 31, 2023 – LG Energy Solution (LGES; KRX: 373220) today released ESG report 2022, sharing the progress of the company's ESG management including climate change mitigation achievements. Consisting of a total of 107 pages, the third annual report details the company's vision, efforts, and progress in environmental, social, and governance areas.
As a part of its plan to achieve carbon neutrality company-wide by 2040, LGES announced that it has managed to source 61 percent of the electricity used in its global production sites from renewable energy in 2022. In terms of the company-wide electricity usage, which includes non-manufacturing business sites, 56 percent was delivered from renewable sources. LGES has been rapidly advancing the transition to renewable energy, supplying 33 percent of its electricity use from renewable sources in 2020 and 44 percent in 2021.
Previously, LGES has set a phased roadmap to successfully complete the mid-to long-term initiative to realize carbon neutrality. The company plans to supply all its electricity from renewable sources by 2030. Furthermore, LGES intends to achieve carbon neutrality by converting all energy sources aside from electricity, including fuels and gas, to renewable energy sources at all of its business sites by 2040, and across the entire value chain by 2050.
One of the other priority tasks identified by LGES is establishing a closed-loop system of resources by reusing or recycling end-of-life batteries and managing waste generated at business sites. To this end, the company signed a contract with Li-Cycle, the largest battery recycling company in North America, to provide scrap generated during the battery manufacturing process, and in turn receive recycled nickel that can be used in manufacturing cathode materials for batteries. Furthermore, in China, LGES has completed the establishment of recycling system in 2022. Its Nanjing facility has also developed a new technology to recycle NMP solvent waste (N-Methyl-2-pyrrolidone), which accounts for about 85 percent of the hazardous waste, and improved the NMP recycling rate from 80 percent to 97 percent.

Furthermore, LGES is actively taking part in major global ESG initiatives. In May 2022, it became the first Korean company to join the Fair Cobalt Alliance (FCA), joining the global efforts to eradicate forced labor and child labor issues in Congolese mines of cobalt, a major raw material for batteries, and secure fair minerals. Also participating as a member of the Alliance's Steering Committee, LGES is actively pursuing community improvement activities such as helping young children enroll in school, supplying solar power to local schools, and executing safety education in mines.

LGES emphasized that the company has strengthened the information disclosure throughout this year's report in line with the growing call for more transparent ESG information from various stakeholders including investors around the world. LGES is responding quickly to the demands of the international community, following the recommendations from renowned global ESG disclosure standards such as the International Sustainability Standard Board (ISSB) and Task Force on Climate-related Financial Disclosure (TCFD).

In addition, the report's cover design reflects the characteristics of LGES as a battery company as well as its ESG slogan "Plus for Minus, Minus for Plus." The phrase represents the company's determination to realize a better future by reducing unnecessary elements and adding necessary ones in each area of Environment, Society, and Governance, like the natural flow of electrodes moving between the plus and minus poles.
"LG Energy Solution will continue to relentlessly innovate ourselves in order to contribute to the global carbon neutrality and the future of mankind," said Youngsoo Kwon, CEO of LG Energy Solution. "By making a difference, we will meaningfully realize our goal of becoming the 'global No.1 company' that is trusted and beloved by customers."