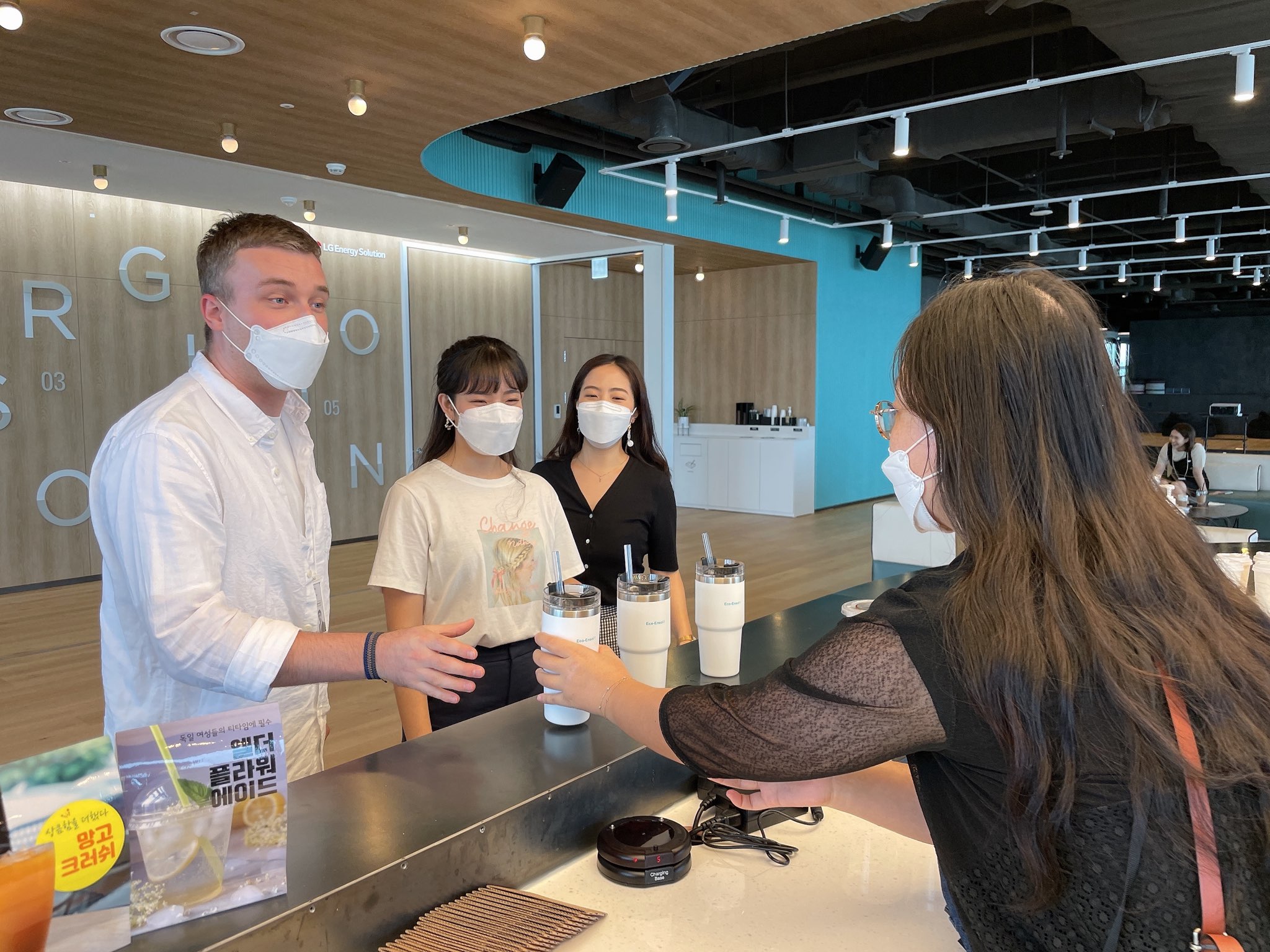 ■ Conduct "Econsol" campaign to encourage employees to use eco-friendly products
■ Take the lead in minimizing the use of disposable and plastic items with employees
■ Accelerate ESG management as a leading eco-friendly energy company
LG Energy Solution, as a leading eco-friendly energy company, is mitigating the use of disposable and plastic products with its employees to reduce environmental impact caused by resource consumption.
In line with this move, the compay said it will carry out 'Econsol' campaign encouraging those working at its headquarters located in Park One, Yeouido to use eco-friendly products.
As the initial step, it pursued the campaign by selecting the first campaign supporters of 91 employees at its headquarters in Park One to increase employee engagement.
The supporters will receive premium tumblers from the company. All beverages served at a company cafe will be offered for free if they use the tumblers. Moreover, if they use their personal tumblers or mugs, they will get 50% discount for all drinks at the cafe. For those received many likes from their colleagues in the company's SNS sites by uploading their campaign activities, they can enjoy various benefits including receiving running shoes made of eco-friendly materials.
It is also setting out de-plasticing the company dining halls and cafe. "Batteria," one of the cafeterias where only to-go services are available, ▲ changed their plastic food containers with multi-use and pulp containers and ▲ replaced not only single-use plastic spoon, chopsticks, and bags, but also straws and cups with eco-friendly biodegradable items, used by all employees in the cafe. By doing so, the company created a mood where employees can be naturally interested in being eco-friendly.
LG Energy Solution intends to expand this campaign to Ochang Plant and Daejeon R&D center based on the results of the campaign being run in the headquarters.
Meanwhile, it is conducting various social contribution activities as a company specialized in eco-friendly energy solutions.
LG Chem has been activating in earnest 'LG Green Academy Project,' a social contribution activities held jointly by labor and management, since last year. It has collected and recycled waste plastic to manufacture small items and others and donate them to local communities.
In addition, it installed the 410KW photovoltaic facility of 'Cheongju Hope Green Generator' in the transit center in in Cheongju, Chungbuk Province late last year. If Cheongju Hope Green Generator is to be run for the next two decades, about 4,900 tons of greenhouse gases (GHGs) can be reduced and all the expected profits from generation will be amount to 800 million KRW (40 million KRW per year). It seeks to donate the profits in supporting welfare programs for the vulnerable groups in Chungbuk Province.
LG Energy Solution has become the first battery manufacturer in the world by having joined two environmental initiatives RE100 and EV100 this April. In June, it newly established ESG Committee to fulfill its social responsibilities as an eco-friendly company. Going beyond its identity as a battery maker, it is sparing no efforts to become a company maintaining eco-friendly environment for the future generation by further enhancing sustainable management. (The End)