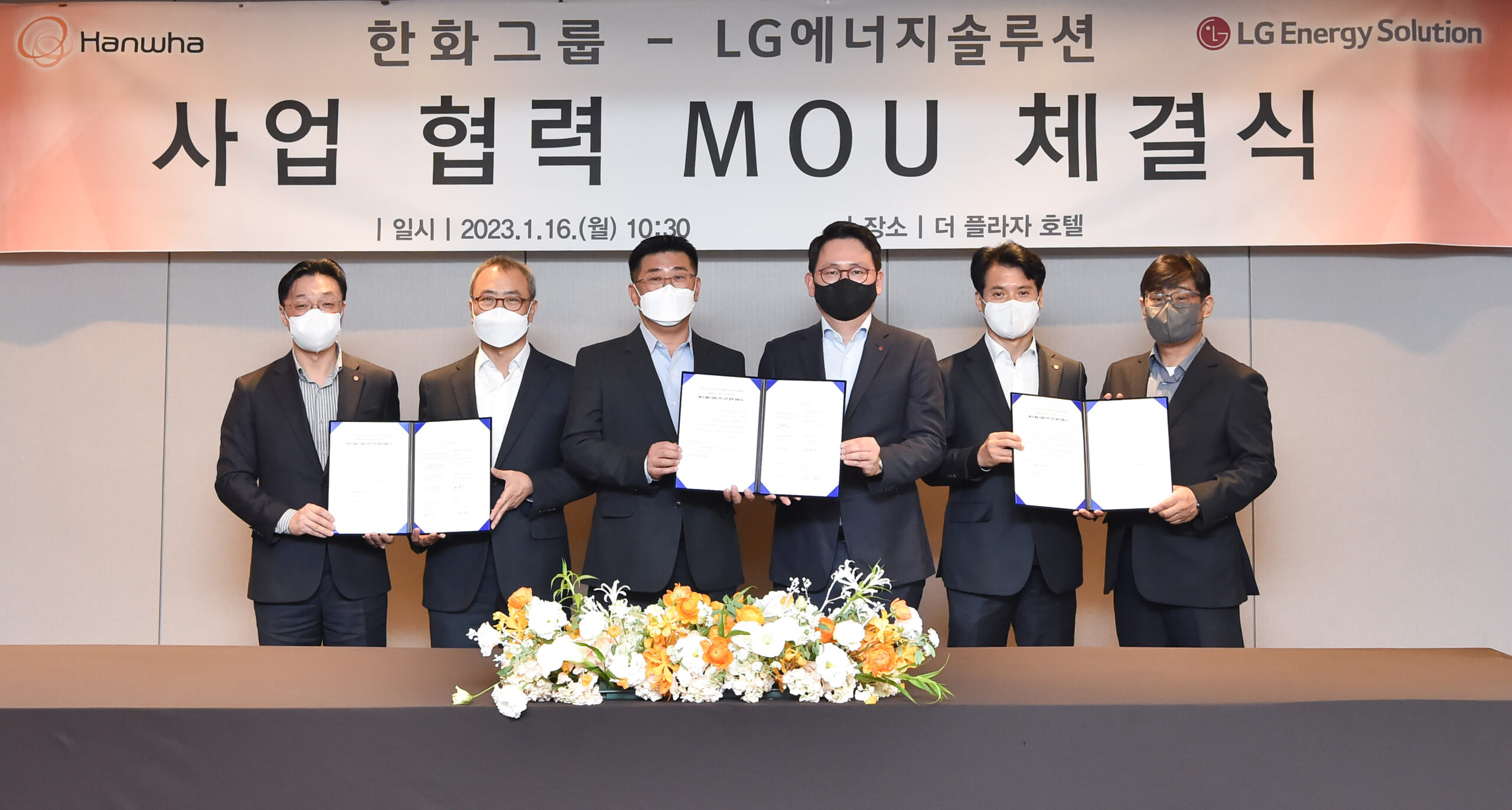 ■ LGES signs an MoU for future collaborations in battery business with three companies from Hanwha Group
■ Through joint investment and technology development, LGES to secure market leadership in the rapidly-growing U.S. energy storage systems market
■ Companies to also cooperate on battery manufacturing equipment and specialpurpose battery technologies
SEOUL, January 16, 2023 – LG Energy Solution (LGES; KRX: 373220) signed a Memorandum of Understanding (MoU) today with three companies (Hanwha Solutions, owner of US clean energy provider Qcells, Hanwha Corporation/Momentum, and Hanwha Aerospace) of Hanwha Group to collaborate on its battery business.
With the new MoU partners, LGES will make joint investment in establishing energy storage systems (ESS) battery production lines in the U.S., thereby securing market leadership in the rapidly-growing ESS market, an important pillar of U.S. green energy policies. The companies will also work on maximizing synergies and expanding the application of batteries to future mobility fields such as Urban Air Mobility (UAM).
■ Securing Market Leadership in U.S. ESS Market
Under the MoU, LGES and Hanwha Group will invest in ESS-exclusive battery production lines and develop technologies for ESS battery solutions.
The collaboration will enable Qcells to secure a stable battery supply for the U.S. power grid market (especially ESS batteries). Steady procurement is becoming ever more important in the ESS market, as its demand is increasing along with the expanded use of green energy and the need to stabilize the power grid and upgrade the efficiency of the electric power delivery system1*.
Having successfully positioned itself as number one company in the U.S. residential and commercial solar module markets, Qcells aims to become a leading company in not only solar power market, but also in Engineering, Procurement and Construction (EPC), and ESS business development by securing stable battery supply and competitive product procurement.
With the MoU, LGES has now secured another stable market demand in the mid- to long- term in the U.S. clean energy market where the fastest growth is expected, and thereby established a solid growth platform by reinforcing its well-balanced business portfolio of three sectors: advanced automotive batteries, mobility & IT batteries, and ESS batteries.
In 2022, LGES advanced into the field of ESS System Integration by establishing a new corporation, LG Energy Solution Vertech. Inc., which offers customers a streamlined approach to energy storage system integration and a secure battery supply chain through LGES.
■ Collaborations in Battery Manufacturing and Special-Purpose Batteries
LGES will also work closely with Hanwha Corporation/Momentum, an automation engineering solutions company.
The companies will discuss cooperation on businesses related to battery manufacturing equipment. LGES is currently constructing joint venture plants in North America with major automakers including GM (three Ultium Cells plants), Stellantis, and Honda, and also has plans to further expand the production capacities of its own facilities in Michigan (U.S.), Poland and Ochang (South Korea).
LGES will also collaborate with Hanwha Aerospace in developing special-purpose batteries for its Urban Air Mobility (UAM) and more.
"Our partnership with Hanwha Group is expected to take the competitiveness of each company's battery-related businesses a step further," said LG Energy Solution. "By signing this MoU with leading, like-minded energy companies, we put ourselves in the best possible position to successfully expand the influence of our solar and ESS businesses in the U.S., and we will do our very best to provide customers with comprehensive green energy solutions."
"We have decided to collaborate with LG Energy Solution, which has several large-scale manufacturing facilities being constructed in U.S., to target the U.S. ESS market boasting fast growth thanks to green energy policies," said Hanwha Group. "Our aim is to maximize synergy at home and abroad by promoting partnerships in various fields, such as battery manufacturing equipment and special-purpose batteries."
* The power grid ESS market in the U.S. is expected to grow more than nine-fold from 9GWh in 2021 to 95GWh in 2031, in accordance with the passing of the Inflation Reduction Act (IRA)